---
2011-2012 NASS Liaison to ACR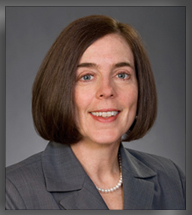 Oregon Secretary of State Kate Brown
The National Association of Secretaries of State (NASS) appoints a member Secretary of State to be the liaison to the Administrative Codes and Registers (ACR) Section. The current NASS liaison to ACR is Kate Brown of Oregon.
Oregon Secretary of State Kate Brown was born in Spain on June 21, 1960. After spending most of her childhood in Minnesota, Brown earned a B.A. in Environmental Conservation with a certificate in Women's Studies from the University of Colorado at Boulder.  She earned her law degree and Certificate in Environmental Law from the Northwestern School of Law at Lewis and Clark College in Portland, Oregon.
Brown has taught at Portland State University, and practiced family and juvenile law.  She was appointed to the Oregon House of Representatives in 1991.  In 1996, after winning election to two more House terms, she won election to the Oregon Senate.  Two years later, she was elected Senate Democratic Leader and, in 2004, senators made her the first woman to serve as Oregon's Senate Majority Leader.  In 2008, she was elected Oregon's 24th Secretary of State and subsequently was appointed by Governor Kulongoski to chair the Oregon Sustainability Board.
In her legislative career, Brown led successful efforts to make Oregon's state government open and accessible by taking legislative committee meetings to communities around the state.  She also ensured funding for a comprehensive review of Oregon's ethics laws, spearheaded legislation creating a searchable online database of campaign contributions and expenditures, and reformed Oregon's initiative process to reduce fraud and protect the citizen's right to petition their government.  In a recent effort to make registering to vote more accessible to Oregonians, Brown oversaw the development and implementation of an on-line voter registration system.
Secretary Brown lives in Portland with her husband, Dan.