The State and Federal Survey is a valuable tool that contains a wealth of information about administrative rules in the various states.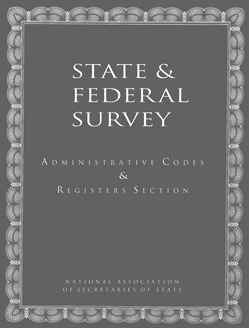 2022 ACR Survey Order Form
For example, you can find out which states publish an administrative register or code, determine which branch of government is responsible for publication, and locate contact information for the states.
Appendices include informative statistics, Internet addresses for administrative codes and registers websites, and Internet addresses for administrative rules review information.
This survey is available for US $40. Please fill out the order form and make check or money order payable to ACR Survey.