2019 Robert J. Colborn, Jr. Innovation Award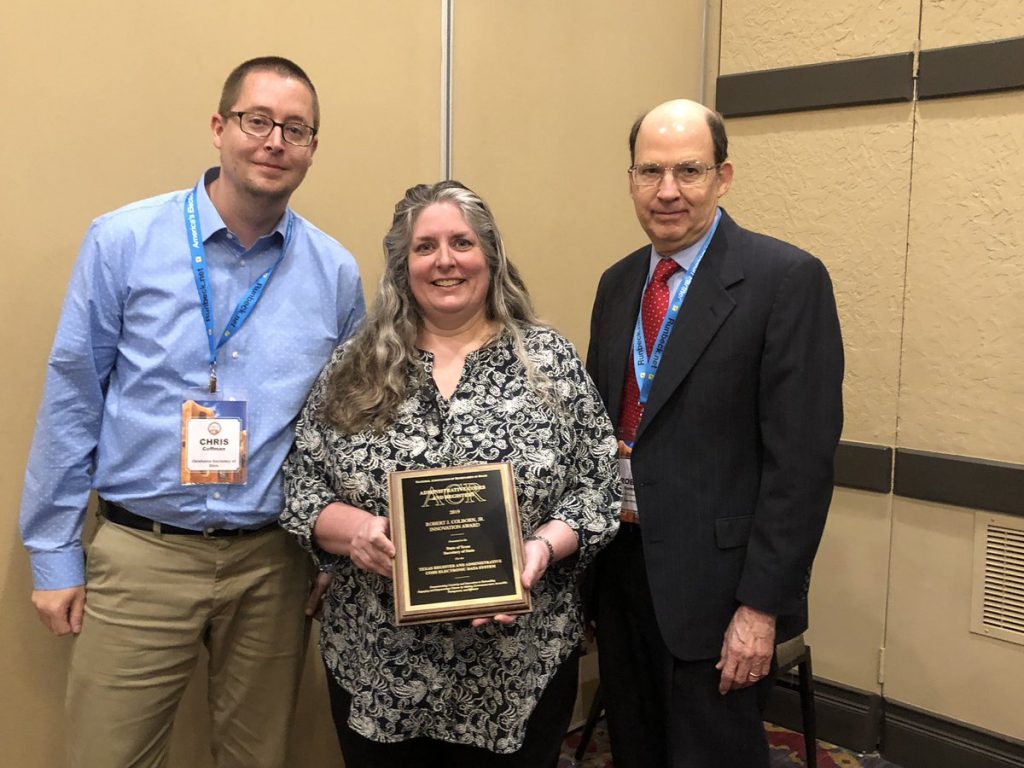 Robert Sumners (right), Texas Secretary of State's Director of Government Filing and Jill Ledbetter, Texas Register and Administrative Code's Editor-in-Chief (center) accepts the 2019 Colborn Award from Chris Coffman, ACR President (left).
Review the TEXAS_Colborn Nomination Package 2019.
Presentation Materials to come
Recipient:
The Republic of Texas, Texas Register and Texas Administrative Code
Related Press Release to come
Committee Statement:
2019 Executive Summary (Provided online per ACR Bylaws):
Texas has created the Texas Register and Texas Administrative Code Electronic Filing and Data Management System, an online electronic filing and data system that serves the needs of not only the staff of the Texas Register and Texas Administrative Code, but also the state agency staff who write and file state regulations, and the public who access and use the regulations.
While the initial system is not brand new, significant updates in 2014 and 2018 have enhanced the dynamic system's usefulness to all three user groups. The system includes an online access portal for agencies filing both administrative rules and other miscellaneous documents. All filings submitted for publication in the Texas Register now flow through this portal. Agencies have access to previous filings, and may download rules from the Texas Administrative Code in a variety of formats as well.
The current database system allows the Texas Administrative Code to be updated daily, allows for filing access for nearly 300 agencies, and includes historical versions of rules going from the present day, back to January of 1999.
Because of these innovative features, the awards committee has selected the Texas Register and Texas Administrative Code as this year's Colborn Award recipient.
The 2019 Awards Committee
Chair: Julie Yamaka
Program Coordinator
Oregon Administrative Rules
Phone: (503) 378-5199
Committee Member: Mike Broschinsky
Coordinator
Utah Office of Administrative Rules
Phone: 801-538-3003
Committee Member: Emma Gradian
Legislative Analyst/Administrative Rules Editor
Wisconsin Legislative Reference Bureau
Phone: 608-504-5899