2010 Robert J. Colborn, Jr. Innovation Award
Recipient: New Mexico State Records Center and Archives – Administrative Law Division, recognized for creation of on-line training course.
Presentation: Monday, July 19, 2010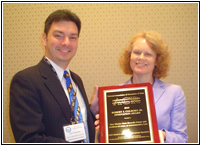 Jane Chaffin, (right) 2010 Colborn Committee Chair, presents the Robert J.
Colborn, Jr. Innovation Award to John Martinez for his efforts to create
an on-line rules training course.
Photo: S. Cancelosi, ACR Vice President
Executive Summary (provided online per ACR Bylaws) For many years, the New Mexico State Records Center and Archives (SRCA) has provided training to state employees on how to write and file state rules. The training was held almost every month since 2001, and hundreds of people attended the class. By late 2008, the time had come to update the training. The SRCA determined to split the full-day course into two half-day courses and decided to make the training more accessible by placing it on-line. On October 28, 2009, after almost a year of development, the first of the two new rules courses was made available on-line with the hope that more people will be able to learn about state rules. The course, called New Mexico State Rules and Rule Making: An Introduction, covers the basics of state rules and rulemaking and is currently open for enrollment. Although the course is designed for state employees, anyone interested in state rules is encouraged to enroll. The SRCA opened the on-line training to everyone because it believes that an increased understanding of state rules will benefit the people of New Mexico.
View the press release in pdf.
View the PowerPoint Presentation.
Committee Statement: The Administrative Law Division is recognized for the development of New Mexico's online state rules training course and using an innovative approach to educating state agencies and the general public about New Mexico's administrative rules and rulemaking process.
2010 ACR Robert J. Colborn Jr. Committee: Chair: Jane Chaffin, Registrar of Regulations, Division of Legislative Services, Richmond, Virginia Member: Molly Masich, Codifier of Rules, Office of Administrative Hearings, Raleigh, North Carolina Member: Scott Eaton, Administrative Rules Director, Office of Legislative Services, Concord, New Hampshire