2008 Robert J. Colborn, Jr. Innovation Award
Recipient: Arkansas Secretary of State, recognized for creating a rules cataloging and archiving system and making rules accessible online.
Presentation: Sunday, July 27, 2008
Jon Davidson accepting the Colborn Award from Dennis Stevenson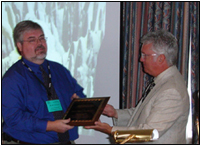 (Left) Editor Jon Davidson accepted the award on behalf of Arkansas Secretary of State Charlie Daniels' office from Dennis Stevenson, chair of the Colborn Innovation Committee.
Background:
Members of the Colborn Innovation Committee received a nomination package from an ACR member who was aware of Mr. Davidson's ongoing effort to bring rules from a card-catalog system to an online archive system.
Executive Summary (provided online per ACR Bylaws)
In 2003 the Arkansas General Assembly passed Act 1478 which mandated Arkansas rules to be posted on the Secretary of State's Web site. Less than 10 years earlier the state made the move for administrative rule filings to be maintained in three-ring binders and a card catalog system.
The text of the first rule notice was published in the fall of 2003. Last summer his office introduced a search engine to help users find rules online. As we have all found out in the rulemaking world, web expansion of rules improves the efficiency and accuracy of the Secretary of State's records management. Posting the rulemaking activity online has opened the entire process to those who might not have known about a rulemaking action under the paper-only system. Last year Jon also talked about database revamping to expedite the posting of rules.
Committee Statement:
Members of the Colborn Innovation Committee recognized Arkansas as the recipient for a number of factors including Mr. Davidson's efforts to modernize the filing system and make more information available to the public through a searchable online database.
2008 ACR Robert J. Colborn Jr. Committee:
Chair: Dennis Stevenson, Admin. Rules Coordinator, State of Idaho, Boise, Idaho, Ph. 208-332-1820
Member: Nancy Reddy, Kansas Register Director, Kansas Secretary of State, Topeka, Kansas, Ph. 785-296-3489
Member: Judy Cooper, Manager, Administrative Law Division, West Virginia Sec. of State, Charleston, West Virginia, Ph. 304-558-6000
Other Award Recipients:
* 2007 — Colorado Secretary of State
* 2006 — Idaho Department of Health and Welfare
* 2004 — Office of the Federal Register
* 2003 — Missouri Secretary of State, Administrative Rules Division
* 2002 — Virginia Department of Planning and Budget, Virginia Regulatory Townhall
2014 Where are they now? [Presented at the 2014 Winter Meeting]
As Jane may have told you I have left the Secretary of State – Arkansas Register.  After 20+ years of working for the office and 15 as the only "rules" person, I have now taken a job at the State Board of Election Commissioners.
As far as updates to the Register since 2008, there have only been some.  Probably the biggest was in 2013 the Legislature passed a bill that allows the Register to only be an online publication and no longer be printed.  Since the 1990's the Arkansas Register had only contained rule numbers, dates and Titles, so the printed copy really didn't give the user any useful information.  In 2003 the online version of the Register began to contain links to the full version of the Final rule.  In 2007 the office launched the online web search tool and began adding rule Notices and Proposed rules.
Some other web additions that I can think of:  a Bulk Download was added where a user can download ALL of the rules in the database if they want, a link to the State Agency meeting calendar was added so interested persons could see all the meetings in a certain time frame.
The last thing that was in the works before I left was an email notification system that would alert a user that a notice/proposed rule had been filed by a particular agency.  That unfortunately didn't get finished before I left and I doubt it will be finalized this year.
Please tell my old ACR friends that I miss them a lot. And I wish for them a great conference.
Regards,
Jon Davidson
Educational Services Manager
State Board of Election Commissioners
501 Woodlane, Suite 401N
501-682-1856