2007 Robert J. Colborn, Jr. Innovation Award
Recipient: Colorado Department of State, CCR Online Portal for eFiling and Rule Access
Presentation: Tuesday, July 17, 2007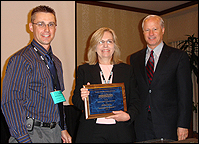 (Left) Scott Cancelosi, 2007 Colborn Committee Chair presents the Robert J. Colborn, Jr. Innovation Award to Candy Herring, Rules Program Manager and Mike Coffman, Colorado Secretary of State for their creativity and innovation in providing public access and managing administrative rules.
Background:
Members of the Colborn Innovation Committee received a nomination package on June 13, 2007, from executive assistant Andrew Whitfield for its launch of the CCR Online Portal. The nomination recognized Rules Program Manager Candy Herring's and the office's efforts to bring the portal online.
Executive Summary (provided online per ACR Bylaws)
The goal of the project was to launch the Code of Colorado Regulations online. The vision was to create a platform that could provide content to a multitude of users while allowing the content providers, governmental agencies, to more quickly and efficiently deliver their content. This vision came to life on January 2, 2006, when the system went live and received its first e-filing four days later. Poised to be anointed the "Official" administrative code for Colorado on July 1, 2007, the system has evolved into a preeminent portal offering numerous services and benefits for a multitude of users.
Committee Statement:
Members of the Colborn Innovation Committee recognized Colorado as the recipient for a number of factors including its ability to conquer deadlines with vendor issues and the increased efficiency and accuracy of the Colorado Administrative Code.
2007 ACR Robert J. Colborn Jr. Committee Members:
Scott Cancelosi, Committee Chair & Director, Public Services Division, Arizona Secretary of State's Office
Deborah Ritzko, Publications Manager, NY Department of State, Division of Administrative Rules
Dennis R. Stevenson, Administrative Rules Coordinator, Office of Administrative Rules, Department of Administration, State of Idaho
Other Award Recipients:
2006 — Idaho Department of Health and Welfare
2004 — Office of the Federal Register
2003 — Missouri Secretary of State, Administrative Rules Division
2002 — Virginia Department of Planning and Budget, Virginia Regulatory Townhall