These officers were elected. The next election will be held in the summer of 2010.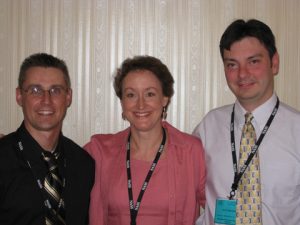 President

Julie Yamaka, OR
Biography
Publications Manager, Oregon Secretary of State
800 Summer St.
Salem, OR 97310
(503) 378-5199
E-mail:
julie.a.yamaka@state.or.us
2010 Biography
Julie Yamaka has managed the Publications Unit of the Archives Division of the Oregon Secretary of State since 1997. The Publications Unit is charged with filing and publishing the Oregon Administrative Rules, and compiling and publishing the Oregon Blue Book. She has worked for the Oregon Secretary of State since 1990.
She is currently serving as President of the Administrative Codes and Registers (ACR) section of the National Association of Secretaries of State, and has been a member of ACR since 1998. She served as the ACR Pacific West regional representative from 2000 to 2004, and was the 2002 Summer Conference Chair in Providence, Rhode Island. She was ACR Secretary/Treasurer from 2004 to 2006 and Vice President from 2006 to 2008.
Julie has Bachelor's degree in German Language from the University of Oregon, Eugene, Oregon. She and her husband Dave have two grown children, Stephanie and Kevin.
Vice President

John Martinez, NM
Biography
Director, Administrative Law Division
New Mexico Commission of Public Records – State Records Center and Archives
1205 Camino Carlos Rey
Santa Fe, NM 87507
(505) 476-7941
FAX: (505) 476-7910
E-mail: john.martinez4@state.nm.us
2010 Biography
John Martinez is the Director of the Administrative Law Division of the New Mexico Commission of Public Records – State Records Center and Archives.  He earned his Bachelor of Arts, Magna Cum Laude, in History with a minor in Spanish from Brigham Young University.  After graduation he attended the University of Texas at Austin where he earned a Master of Arts in U.S. History, with a focus on the American Southwest.  After leaving Texas, he worked for a large financial institution in California where he worked in human resources and corporate security.  Eight and a half years ago he accepted a position at the New Mexico State Archives in Santa Fe.  While at the state archives, he was introduced to state rules through the archives' collection of non-current rules.  Shortly thereafter, he was hired to direct the Administrative Law Division.
Secretary – Treasurer

Scott Cancelosi, AZ
Biography
Public Services Director, Arizona Secretary of State
1700 W. Washington St., 7th Floor
Phoenix AZ 85007
(602) 542-0223
E-mail: scancelosi@azsos.gov
2010 Biography
Scott Cancelosi (pronounced Cancel-oh-see) is your ACR Secretary/Treasurer/Historian, and is a member of the ACR Web site Committee. This committee maintains the ACR Web site www.administrativerules.org.
Scott has been a member of ACR since 1997. He has chaired the Robert J. Colborn Award Committee; is a founding member of ACR's esteemed Rulettes; and also maintains the underground Web site ACR AfterDark.
Scott has been with the Arizona Secretary of State's office since 1996. He is Director of the Public Services Division, sometimes referred to as the "publications" division under Secretary Ken Bennett. The division chapters and files legislative bills, prints Arizona administrative rules and publishes office publications in paper and electronically at www.azsos.gov. Scott is also charged with many office special projects such as the Arizona Blue Book and Annual Report. He has expertise in pagination of documents and the maintaining of their structural integrity when posted to the Web. He is the office's multimedia guru, and is: graphic designer, photographer, videographer, and web grunt. He serves as the office's crisis manager as Continuity of Operations (COOP) Coordinator and Pandemic Coordinator.
Scott is the treasurer of the Arizona Historical Advisory Commission (AHAC) and is webmaster to the commission's centennial Web site, www.azcentennial.gov. AHAC has been entrusted to help plan Arizona's Centennial in 2012 with its main function to approve legacy projects.
Scott has a Bachelor's degree in journalism and public relations from Northern Arizona University, Flagstaff, Ariz. He sings and plays the guitar and has appeared with Ken Bennett playing at office functions. He supports the off-road race team, Wide Open MotorSports as webmaster (www.wideopenmotorsports.us) and enjoys downhill skiing.
Scott lives in Phoenix with his wife Anne (recently celebrating their 11-year anniversary), daughter Maria, and Labrador retriever, Shadow.
EXECUTIVE COMMITTEE MEMBERS 2008-2010
Pacific West
Representing: Alaska, American Samoa, California, Guam, Hawaii, Nevada, Northern Mariana Islands, Oregon, and Washington
Kerry Radcliff, WA (appointed 2006)
(360) 786-6697
E-mail: radcliff_ke@leg.wa.gov
Midwest
Representing: Illinois, Indiana, Kentucky, Michigan, Ohio, Missouri, and Wisconsin
Emily Caudill, KY (appointed 2008)
(502) 564-8100 ext. 371
E-mail: emily.caudill@lrc.ky.gov
Mountain West
Representing: Arizona, Colorado, Idaho, Montana, New Mexico, Utah, and Wyoming
Candy Herring, CO (appointed 2006)
(303) 860-6942
E-mail: candy.herring@sos.state.co.us
Mid-Atlantic
Representing: Delaware, District of Columbia, Federal Government, Maryland, New Jersey, New York, and Pennsylvania
Debbie Ritzko, NY (appointed 2004)
(518) 474-6785
E-mail: Debbie.Ritzko@dos.state.ny.us
Northern Plains
Representing: Iowa, Minnesota, Kansas, Nebraska, North Dakota, and South Dakota
VACANT
Northeast Representing:
Connecticut, Maine, Massachusetts, New Hampshire, Rhode Island, and Vermont
Scott Eaton, NH (reappointed 2002)
603-271-3680
E-mail: Scott.Eaton@leg.state.nh.us
South Representing:
Alabama, Arkansas, Louisiana, Mississippi, Oklahoma, Tennessee, and Texas
Jon Davidson, AR (appointed 1999)
501-682-3527
E-mail: jon.davidson@sos.arkansas.gov
South Atlantic Representing:
Florida, Georgia, North Carolina, South Carolina, Puerto Rico, Virginia, and West Virginia
Liz Cloud, FL (appointed July 2002)
850-245-6271
E-mail: LCloud@mail.dos.state.fl.us